SYNTEC PRO X 1
Regular price
Sale price
$9.99
Unit price
per
SIZE GUIDE
DESCRIPTION
The Syntec Pro is the grip used by most professional players on the circuit, who've been swearing by it for years. And it's with them in mind that we've developed this absorbent grip allowing you to really feel the handle for extra control. Now you can enjoy the same feeling.
Team BABOLAT pro players may play with a customized or different model than the equipment depicted.

BENEFITS
ABSORPTION
This is our bestselling replacement grip as it's one of the most absorbent in our range. But if you perspire heavily when you play, we suggest you add an overgrip on top for extra absorption.
FEEL
This 1.9 mm grip is designed to give you balanced contact with the handle – neither too direct nor too comfortable. The Syntec Pro grip provides better racquet control thanks to its tacky feel that improves the traction.
TECHNICAL CHARACTERISTICS
Unwoven, 40% PA and 60% PET
Polyurethane
Made In
China
Share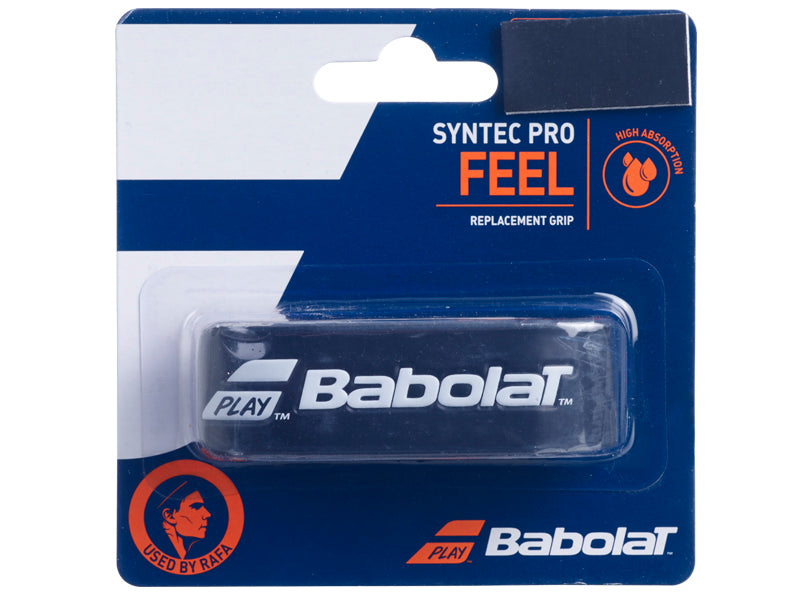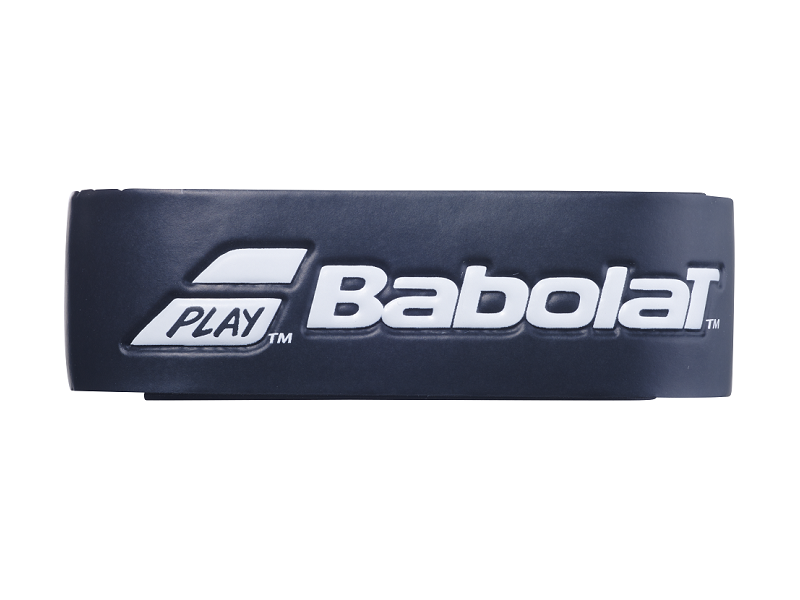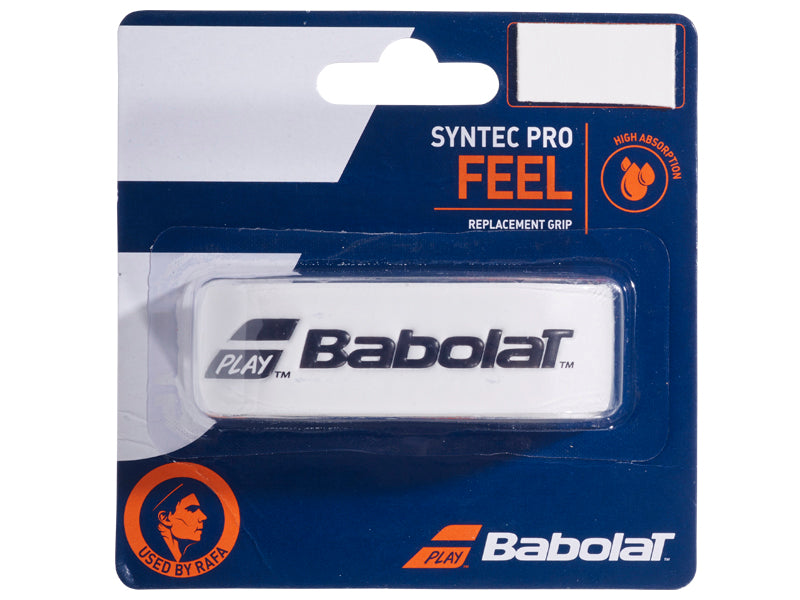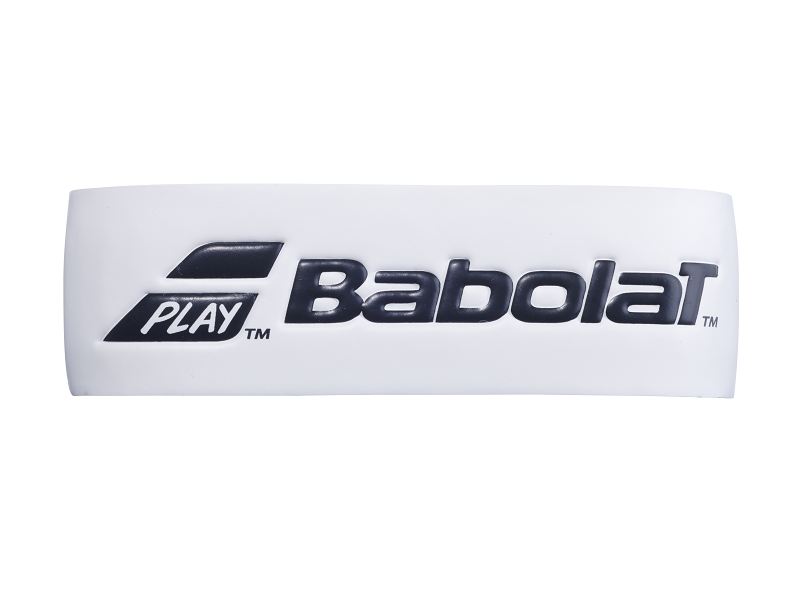 SIZE GUIDE
- RACKETS -
| | | |
| --- | --- | --- |
| Adult | | |
| EU | US | Hand size (in mm) |
| 0 | 4 |  100 - 102 |
| 1 | 4 1/8 |  103 - 105 |
| 2 | 4 1/4 |  106 - 108   |
| 3 | 4 3/8 | 109 - 111  |
| 4 | 4 1/2 |  112 - 114 |
| 5 | 4 5/8 | 115 - 117  |
| | | |
| --- | --- | --- |
| Kids | | |
| EU | US | Hand size (en mm) |
| 00000 | 3 1/2 | 87 - 89 |
| 0000 | 3 5/8 | 90 - 92 |
| 000 | 3 6/8 | 93 - 95   |
| 00 | 3 7/8 | 96 - 99  |
- APPAREL -
Men
Size
US (in inches)
EU (in centimeters)
Tops - Chest
Tops - Waist
Bottoms - Hips
Bottoms - Inseam
Tops - Chest
Tops - Waist
Bottoms - Hips
Bottoms - Inseam
S
33-35
30-31
33-35
39
84-89
76-79
84-89
99
M
36-38
31-33
36-38
30
92-97
79-84
91-97
76
L
38-41
33-34
38-42
31
97-104
84-86
97-107
79

XL

41-42
34-36
42-42
31
104-107
86-91
107
79
XXL
44-45
36-38
44-45
32
112-114
91-97
112-114
81
Women
Size
US (in inches)
EU (in centimeters)
Tops - Chest
Tops - Waist
Bottoms - Hips
Bottoms - Inseam
Tops - Chest
Tops - Waist
Bottoms - Hips
Bottoms - Inseam
XS
34-35
25-26
34-35
30
86-89
64-66
86-89
76
S
35-36
26-27
38-39
30-31
89-91
89-91
97-99
76-79
M
37-38
28-29
39-42
31
94-97
94-97
99-107
79
L
38-39
29-39
44-45
31-32
97-99
74-99
112-114
79-21
XL
40-41
31
47-48
32
102-104
79
119-122
81
XO
41-43
32
50-51
32-33
104-109
81
127-130
81-84
Boys
Age
US (in inches)
EU (in centimeters)
Tops - Chest
Tops - Waist
Bottoms - Hips
Bottoms - Inseam
Height
Tops - Chest
Tops - Waist
Bottoms - Hips
Bottoms - Inseam
Height
6-8
25-26
22-23
27-29
22
44-50
94-66
56-58
69-73
56
112-127
8-10
27
23-24
29-31
25
50-55
69
58-61
74-79
64
127-140
10-12
27-29
24-26
31-33
28
55-60
69-74
61-66
79-83
71
140-152
12-14
29-31
26-28
33-35
31
60-64
74-79
66-71
83-89
79
152-163
Girls
Age
US (in inches)
EU (in centimeters)
Tops - Chest
Tops - Waist
Bottoms - Hips
Bottoms - Inseam
Height
Tops - Chest
Tops - Waist
Bottoms - Hips
Bottoms - Inseam
Height
6-8
26-28
21-23
28-29
22
44-50
66-79
53-58
71-74
56
112-127
8-10
28-31
23
29-31
25
50-55
71-79
58
74-79
64
127-140
10-12
31-32
23-26
32-33
27
55-60
79-21
58-66
81-84
69
140-154
12-14
32-33
26-29
34-35
30
60-64
81-84
66-74
84-89
76
154-163
- SHOES -
| | | | | | | | | | | | | | | | |
| --- | --- | --- | --- | --- | --- | --- | --- | --- | --- | --- | --- | --- | --- | --- | --- |
| MEN | | | | | | | | | | | | | | | |
| Size (in centimeters) | 24,5 | 25 | 25,5 | 26 | 26,5 | 27 | 27,5 | 28 | 28,5 | 29 | 29,5 | 30 | 30,5 | 31 | 32 |
| Size (in inches) | 9,8 | 10,0 | 10,2 | 10,5 | 10,7 | 10,9 | 11,1 | 11,3 | 11,5 | 11,7 | 11,9 | 12,1 | 12,3 | 12,5 | 12,9 |
| UK | 6 | 6.5 | 7 | 7.5 | 8 | 8.5 | 9 | 9.5 | 10 | 10.5 | 11 | 11.5 | 12 | 12.5 | 13.5 |
| EU | 39 | 40 | 40.5 | 41 | 42 | 42.5 | 43 | 44 | 44.5 | 45 | 46 | 46.5 | 47 | 48 | 49 |
| USA | 6.5 | 7 | 7.5 | 8 | 8.5 | 9 | 9.5 | 10 | 10.5 | 11 | 11.5 | 12 | 12.5 | 13 | 14 |
| Japan | 25 | 25+ | 25.5 | 26 | 26.5 | 27 | 27.5 | 28 | 28+ | 28.5 | 29 | 29+ | 29.5 | 30 | 31 |
| | | | | | | | | | | | | | | | |
| WOMEN | | | | | | | | | | | | | | | |
| Size (in centimeters) | 22,5 | 23 | 23,5 | 24 | 24,5 | 25 | 25,5 | 26 | 26,5 | 27 | 27,5 | 27,5 | | | |
| Size (in inches) | 9,04 | 9,24 | 9,45 | 9,65 | 9,85 | 10,05 | 10,25 | 10,45 | 10,65 | 10,85 | 11,05 | 11,05 | | | |
| UK | 3.5 | 4 | 4.5 | 5 | 5.5 | 6 | 6.5 | 7 | 7.5 | 8 | 8.5 | 9 | | | |
| EU | 36 | 36.5 | 37 | 38 | 38.5 | 39 | 40 | 40.5 | 41 | 42 | 42.5 | 43 | | | |
| USA | 4 | 6 | 6.5 | 7 | 7.5 | 8 | 8.5 | 9 | 9.5 | 10 | 10.5 | 9.5 | | | |
| Japan | 22.5 | 23 | 23.5 | 24 | 24.5 | 25 | 25+ | 25.5 | 26 | 26.5 | 27 | 27.5 | | | |
| | | | | | | | | | | | | | | | |
| JUNIORS | | | | | | | | | | | | | | | |
| Size (in centimeters) | 19 | 19,5 | 20 | 20,5 | 21 | 21,5 | 22 | 22,5 | 23 | 23,5 | 24 | 24,5 | 25 | 25,5 | |
| Size (in inches) | 7,64 | 7,84 | 8,04 | 8,24 | 8,44 | 8,64 | 8,84 | 9,04 | 9,24 | 9,45 | 9,65 | 9,85 | 10,05 | 10,25 | |
| UK | 13 | 13.5 | 1 | 1.5 | 2 | 2.5 | 3 | 3.5 | 4 | 4.5 | 5 | 5.5 | 6 | 6.5 | |
| EU | 31 | 32 | 33 | 33.5 | 34 | 35 | 35.5 | 36 | 36.5 | 37 | 38 | 38.5 | 39 | 40 | |
| USA | 13,5 | 1 | 1.5 | 2 | 2.5 | 3 | 3.5 | 4 | 4.5 | 5 | 5.5 | 6 | 6.5 | 7 | |
| Japan | 20 | 20.5 | 21 | 21+ | 21.5 | 22 | 22+ | 22.5 | 23 | 23.5 | 24 | 24.5 | 25 | 25+ | |
| | | | | | | | | | | | | | | | |
| KIDS | | | | | | | | | | | | | | | |
| Size (in centimeters) | 17 | 17,5 | 18 | 18,5 | 19 | 19,5 | 20 | 21 | | | | | | | |
| Size (in inches) | 6,83 | 7,03 | 7,23 | 7,44 | 7,64 | 7,84 | 8,04 | 8,44 | | | | | | | |
| UK | 9 | 10 | 11 | 12 | 13 | 13.5 | 1 | 2 | | | | | | | |
| EU | 27 | 28 | 29 | 30 | 31 | 32 | 33 | 34 | | | | | | | |
| USA | 9,5 | 10,5 | 11,5 | 12,5 | 13,5 | 1 | 1.5 | 2.5 | | | | | | | |
| Japan | 17 | 17,5 | 18,5 | 19 | 20 | 20,5 | 21 | 21.5 | | | | | | | |