TOURNAMENT BAG
Regular price
Sale price
$119.99
Unit price
per
SIZE GUIDE
DESCRIPTION
Just as you, we think the most important function of a bag is to make your life easier. Therefore, we created the TOURNAMENT BAG.
TOURNAMENT BAG is a badminton backpack that can be transform into a Racquet Holder when you need to use it to hold up to 8 racquet into it's insulated dedicated compartment. The TOURNAMENT BAG is the perfect companion for your competitions. it is the best bag to help you organize your gears within it's x3 different compartment (Racquet, apparel, and laptop compartment).
As an Everyday Carry or a Tour bag, it is super intuitive and user friendly. TOURNAMENT BAG comes with a shoe sack.
Incredibly stylish this new TOURNAMENT BAG come in 2 badminton new style
BENEFITS
SPACE AND PROTECTION
Insulated compartment for 8 racquets, new strong and durable insulation material into racquets compartments to protect your racquets against temperature variations.
AMAZING VERSATILITY
Switch from the backpack to the Racquet holder mode when needed.
CONNECTED TO YOUR LIFESTYLE
Keep your laptop with you anytime with a built-in Laptop compartment

DURABLE INSULATED COMPARTEMENT
New EXTRA durable, light, recyclable and dye-free insulated fabric to keep your racquets safe from a wide range of temperatures and thermal variations.

SHAPE SHIFTING
Adapt the shape and volume of the bag depending on what you need to carry.
TECHNICAL CHARACTERISTICS
1 laptop pocket

1 main compartment
1 racket compartment
1 accessory pocket
Number of Insulated Compartments
Share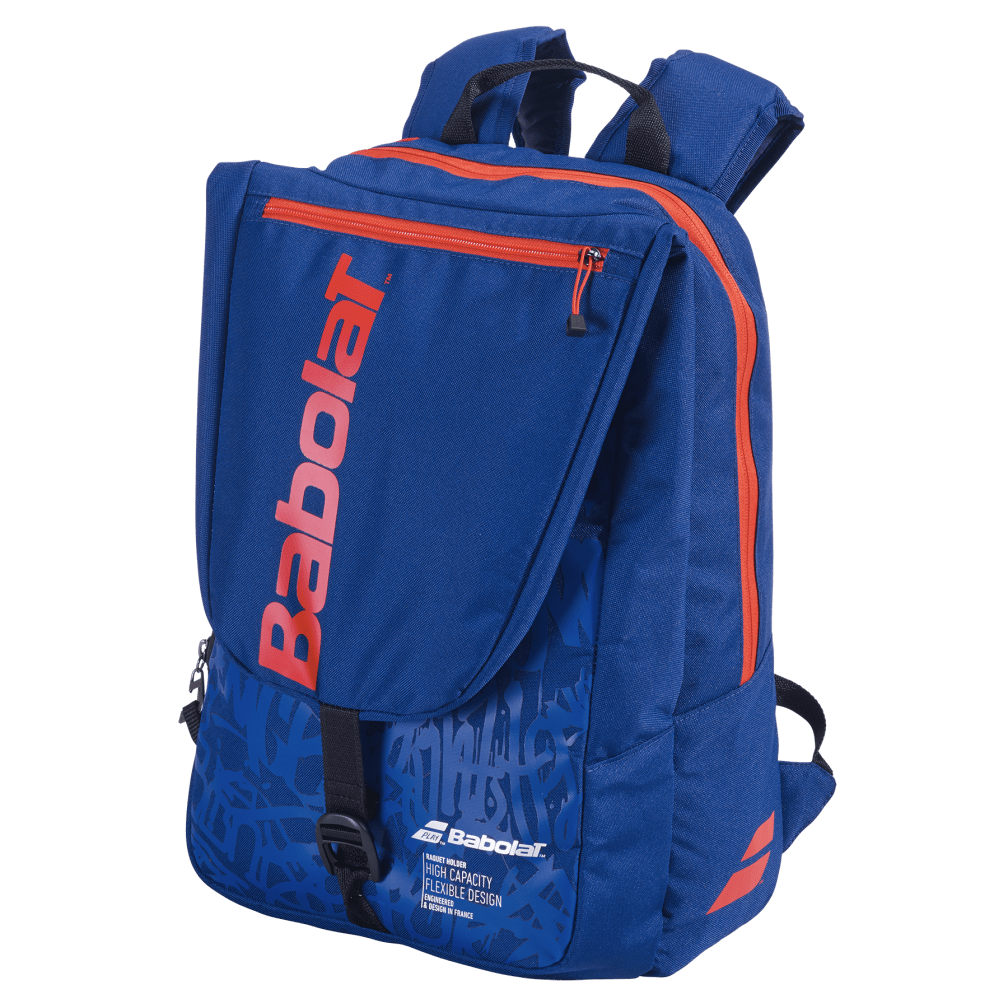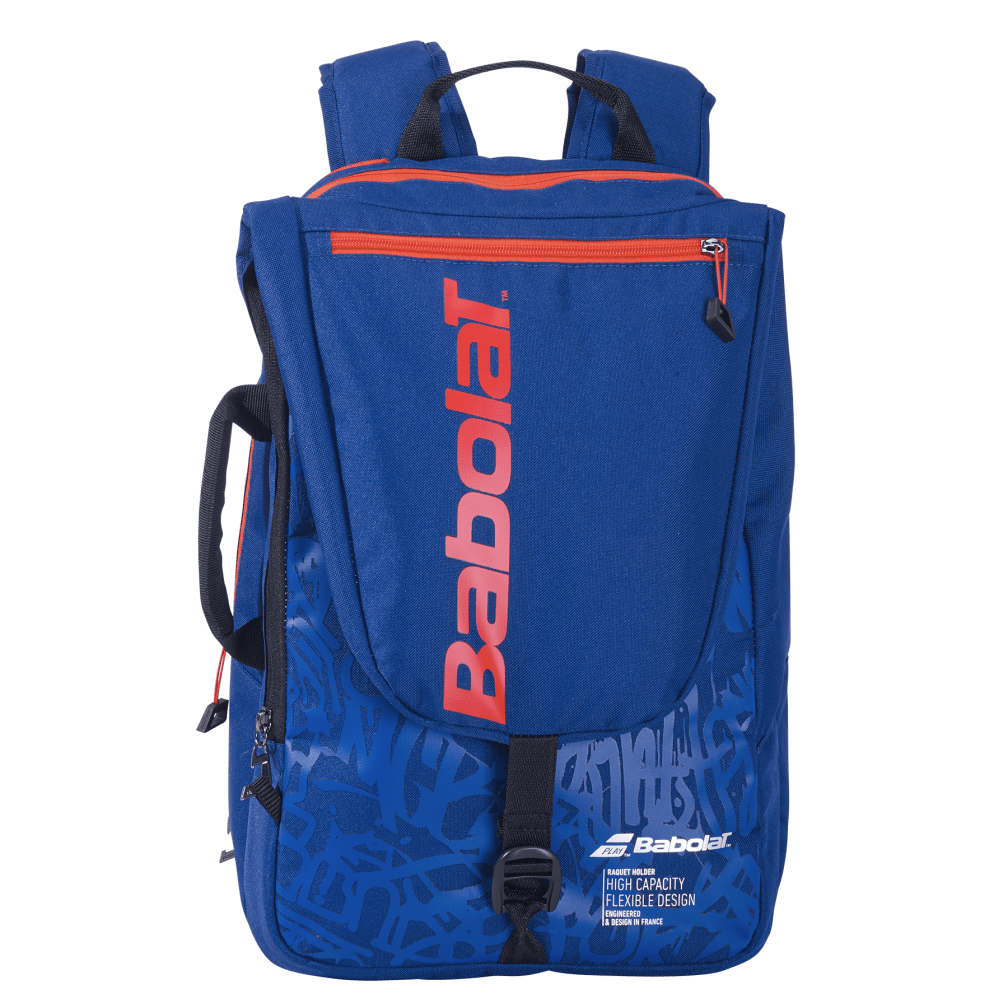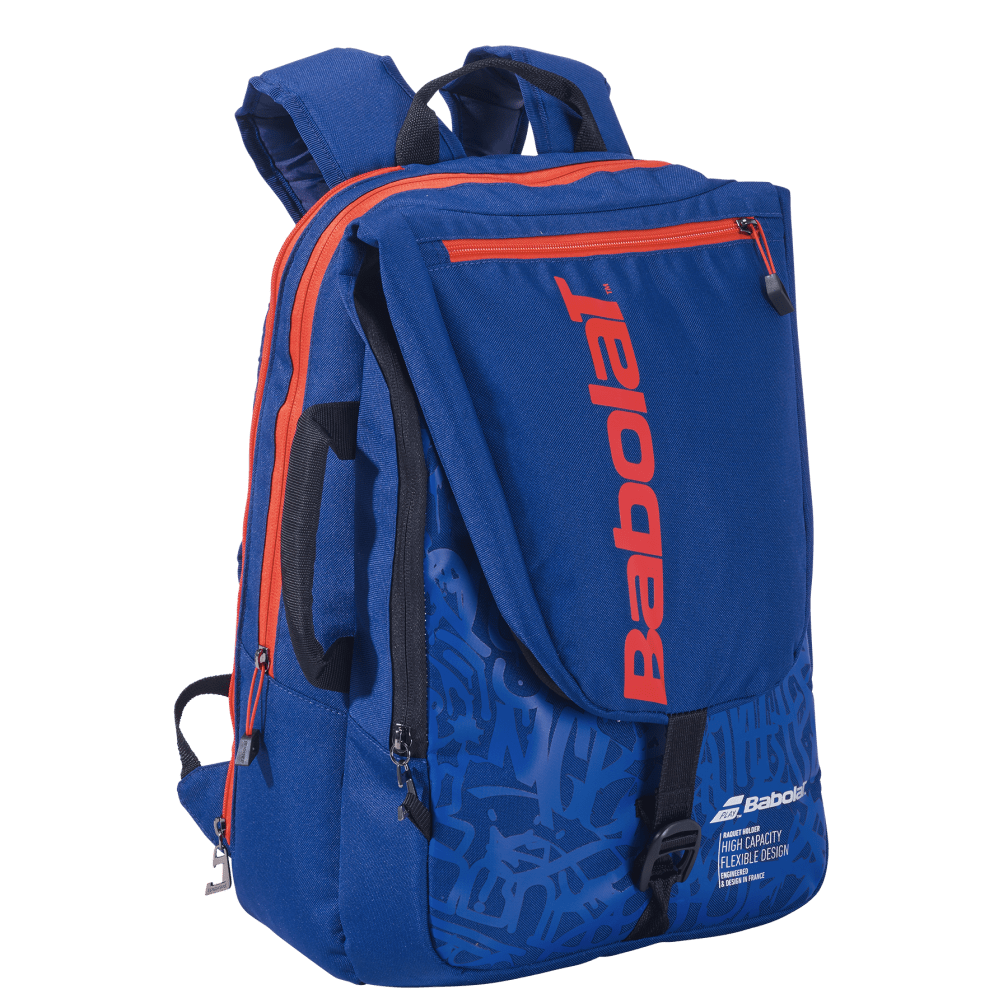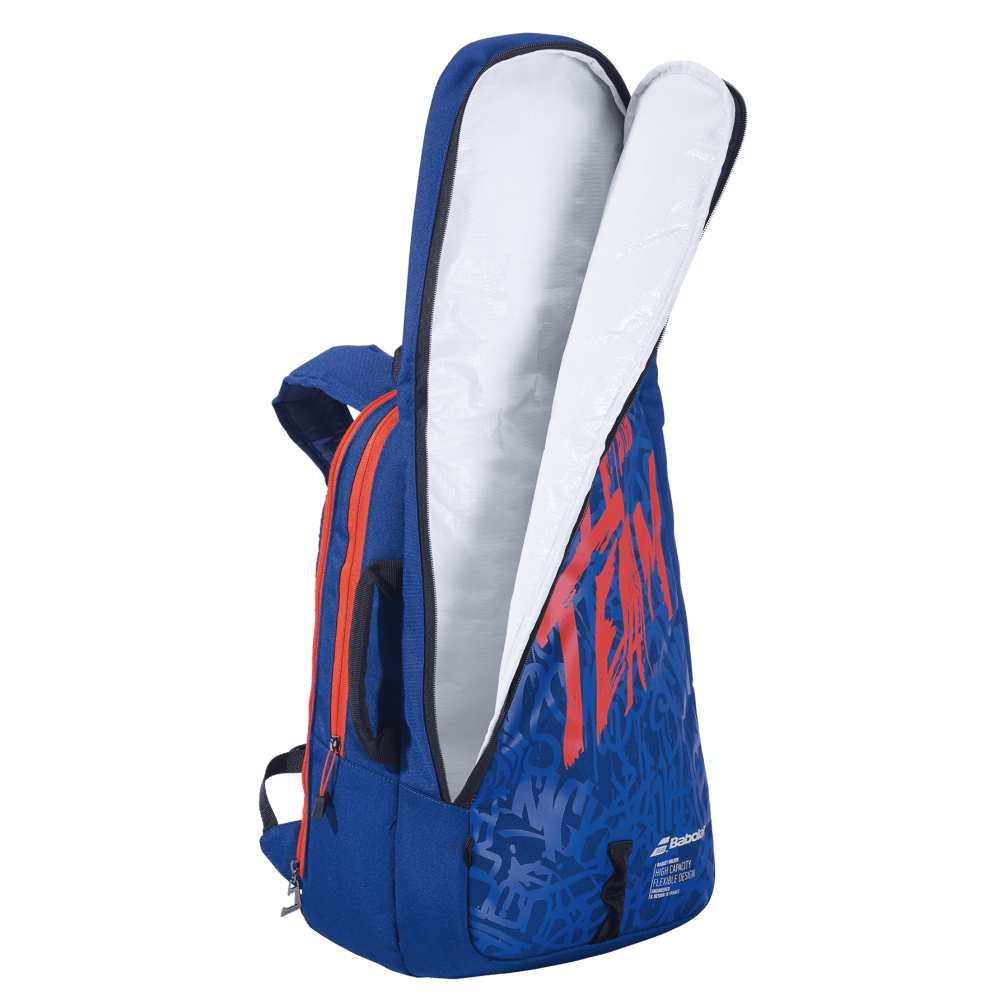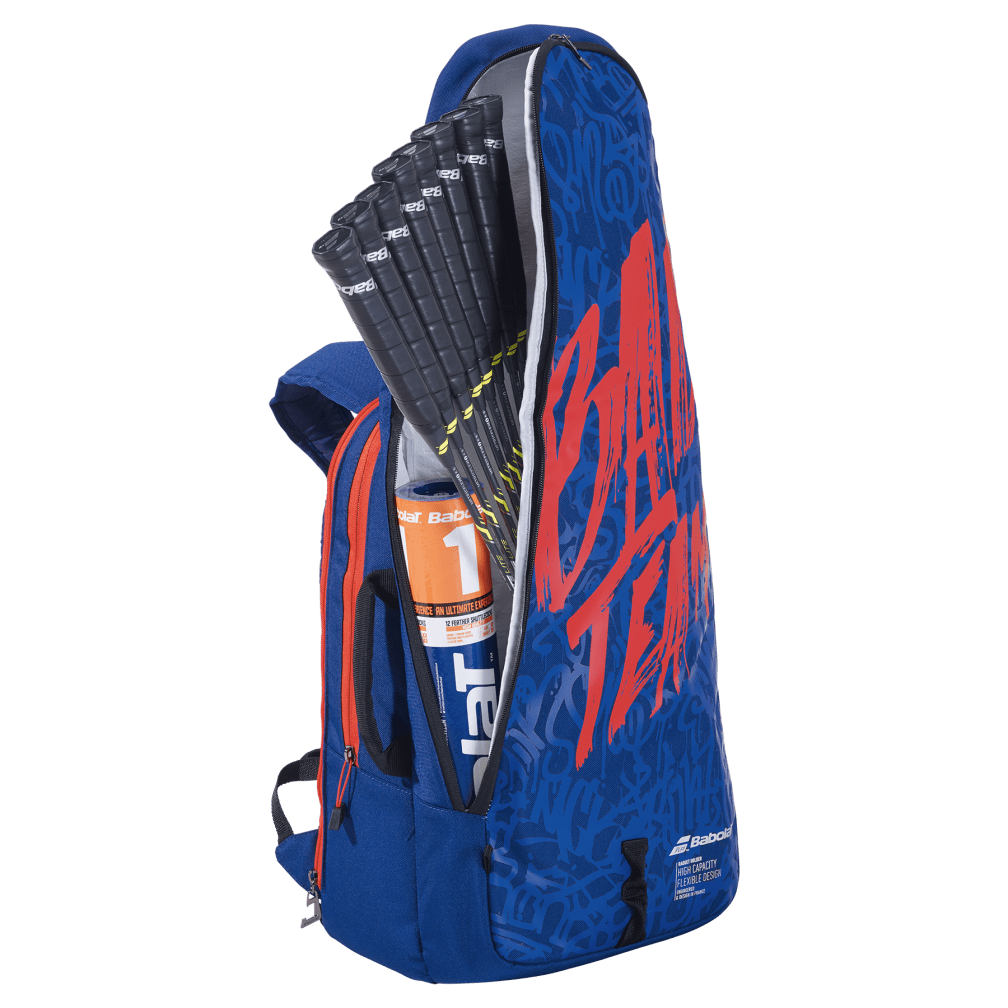 SIZE GUIDE
- RACKETS -
| | | |
| --- | --- | --- |
| Adult | | |
| EU | US | Hand size (in mm) |
| 0 | 4 |  100 - 102 |
| 1 | 4 1/8 |  103 - 105 |
| 2 | 4 1/4 |  106 - 108   |
| 3 | 4 3/8 | 109 - 111  |
| 4 | 4 1/2 |  112 - 114 |
| 5 | 4 5/8 | 115 - 117  |
| | | |
| --- | --- | --- |
| Kids | | |
| EU | US | Hand size (en mm) |
| 00000 | 3 1/2 | 87 - 89 |
| 0000 | 3 5/8 | 90 - 92 |
| 000 | 3 6/8 | 93 - 95   |
| 00 | 3 7/8 | 96 - 99  |
- APPAREL -
Men
Size
US (in inches)
EU (in centimeters)
Tops - Chest
Tops - Waist
Bottoms - Hips
Bottoms - Inseam
Tops - Chest
Tops - Waist
Bottoms - Hips
Bottoms - Inseam
S
33-35
30-31
33-35
39
84-89
76-79
84-89
99
M
36-38
31-33
36-38
30
92-97
79-84
91-97
76
L
38-41
33-34
38-42
31
97-104
84-86
97-107
79

XL

41-42
34-36
42-42
31
104-107
86-91
107
79
XXL
44-45
36-38
44-45
32
112-114
91-97
112-114
81
Women
Size
US (in inches)
EU (in centimeters)
Tops - Chest
Tops - Waist
Bottoms - Hips
Bottoms - Inseam
Tops - Chest
Tops - Waist
Bottoms - Hips
Bottoms - Inseam
XS
34-35
25-26
34-35
30
86-89
64-66
86-89
76
S
35-36
26-27
38-39
30-31
89-91
89-91
97-99
76-79
M
37-38
28-29
39-42
31
94-97
94-97
99-107
79
L
38-39
29-39
44-45
31-32
97-99
74-99
112-114
79-21
XL
40-41
31
47-48
32
102-104
79
119-122
81
XO
41-43
32
50-51
32-33
104-109
81
127-130
81-84
Boys
Age
US (in inches)
EU (in centimeters)
Tops - Chest
Tops - Waist
Bottoms - Hips
Bottoms - Inseam
Height
Tops - Chest
Tops - Waist
Bottoms - Hips
Bottoms - Inseam
Height
6-8
25-26
22-23
27-29
22
44-50
94-66
56-58
69-73
56
112-127
8-10
27
23-24
29-31
25
50-55
69
58-61
74-79
64
127-140
10-12
27-29
24-26
31-33
28
55-60
69-74
61-66
79-83
71
140-152
12-14
29-31
26-28
33-35
31
60-64
74-79
66-71
83-89
79
152-163
Girls
Age
US (in inches)
EU (in centimeters)
Tops - Chest
Tops - Waist
Bottoms - Hips
Bottoms - Inseam
Height
Tops - Chest
Tops - Waist
Bottoms - Hips
Bottoms - Inseam
Height
6-8
26-28
21-23
28-29
22
44-50
66-79
53-58
71-74
56
112-127
8-10
28-31
23
29-31
25
50-55
71-79
58
74-79
64
127-140
10-12
31-32
23-26
32-33
27
55-60
79-21
58-66
81-84
69
140-154
12-14
32-33
26-29
34-35
30
60-64
81-84
66-74
84-89
76
154-163
- SHOES -
| | | | | | | | | | | | | | | | |
| --- | --- | --- | --- | --- | --- | --- | --- | --- | --- | --- | --- | --- | --- | --- | --- |
| MEN | | | | | | | | | | | | | | | |
| Size (in centimeters) | 24,5 | 25 | 25,5 | 26 | 26,5 | 27 | 27,5 | 28 | 28,5 | 29 | 29,5 | 30 | 30,5 | 31 | 32 |
| Size (in inches) | 9,8 | 10,0 | 10,2 | 10,5 | 10,7 | 10,9 | 11,1 | 11,3 | 11,5 | 11,7 | 11,9 | 12,1 | 12,3 | 12,5 | 12,9 |
| UK | 6 | 6.5 | 7 | 7.5 | 8 | 8.5 | 9 | 9.5 | 10 | 10.5 | 11 | 11.5 | 12 | 12.5 | 13.5 |
| EU | 39 | 40 | 40.5 | 41 | 42 | 42.5 | 43 | 44 | 44.5 | 45 | 46 | 46.5 | 47 | 48 | 49 |
| USA | 6.5 | 7 | 7.5 | 8 | 8.5 | 9 | 9.5 | 10 | 10.5 | 11 | 11.5 | 12 | 12.5 | 13 | 14 |
| Japan | 25 | 25+ | 25.5 | 26 | 26.5 | 27 | 27.5 | 28 | 28+ | 28.5 | 29 | 29+ | 29.5 | 30 | 31 |
| | | | | | | | | | | | | | | | |
| WOMEN | | | | | | | | | | | | | | | |
| Size (in centimeters) | 22,5 | 23 | 23,5 | 24 | 24,5 | 25 | 25,5 | 26 | 26,5 | 27 | 27,5 | 27,5 | | | |
| Size (in inches) | 9,04 | 9,24 | 9,45 | 9,65 | 9,85 | 10,05 | 10,25 | 10,45 | 10,65 | 10,85 | 11,05 | 11,05 | | | |
| UK | 3.5 | 4 | 4.5 | 5 | 5.5 | 6 | 6.5 | 7 | 7.5 | 8 | 8.5 | 9 | | | |
| EU | 36 | 36.5 | 37 | 38 | 38.5 | 39 | 40 | 40.5 | 41 | 42 | 42.5 | 43 | | | |
| USA | 4 | 6 | 6.5 | 7 | 7.5 | 8 | 8.5 | 9 | 9.5 | 10 | 10.5 | 9.5 | | | |
| Japan | 22.5 | 23 | 23.5 | 24 | 24.5 | 25 | 25+ | 25.5 | 26 | 26.5 | 27 | 27.5 | | | |
| | | | | | | | | | | | | | | | |
| JUNIORS | | | | | | | | | | | | | | | |
| Size (in centimeters) | 19 | 19,5 | 20 | 20,5 | 21 | 21,5 | 22 | 22,5 | 23 | 23,5 | 24 | 24,5 | 25 | 25,5 | |
| Size (in inches) | 7,64 | 7,84 | 8,04 | 8,24 | 8,44 | 8,64 | 8,84 | 9,04 | 9,24 | 9,45 | 9,65 | 9,85 | 10,05 | 10,25 | |
| UK | 13 | 13.5 | 1 | 1.5 | 2 | 2.5 | 3 | 3.5 | 4 | 4.5 | 5 | 5.5 | 6 | 6.5 | |
| EU | 31 | 32 | 33 | 33.5 | 34 | 35 | 35.5 | 36 | 36.5 | 37 | 38 | 38.5 | 39 | 40 | |
| USA | 13,5 | 1 | 1.5 | 2 | 2.5 | 3 | 3.5 | 4 | 4.5 | 5 | 5.5 | 6 | 6.5 | 7 | |
| Japan | 20 | 20.5 | 21 | 21+ | 21.5 | 22 | 22+ | 22.5 | 23 | 23.5 | 24 | 24.5 | 25 | 25+ | |
| | | | | | | | | | | | | | | | |
| KIDS | | | | | | | | | | | | | | | |
| Size (in centimeters) | 17 | 17,5 | 18 | 18,5 | 19 | 19,5 | 20 | 21 | | | | | | | |
| Size (in inches) | 6,83 | 7,03 | 7,23 | 7,44 | 7,64 | 7,84 | 8,04 | 8,44 | | | | | | | |
| UK | 9 | 10 | 11 | 12 | 13 | 13.5 | 1 | 2 | | | | | | | |
| EU | 27 | 28 | 29 | 30 | 31 | 32 | 33 | 34 | | | | | | | |
| USA | 9,5 | 10,5 | 11,5 | 12,5 | 13,5 | 1 | 1.5 | 2.5 | | | | | | | |
| Japan | 17 | 17,5 | 18,5 | 19 | 20 | 20,5 | 21 | 21.5 | | | | | | | |